UI/UX
Every Inspiring Design Needs Experienced Designers
UI/UX Design
UI/UX Design and Development Agency to Solve Your Worries
We currently stand as the elite UI/UX design and development agency known for creating websites and apps that are both functional and visually appealing. These services focus on the user's experience when interacting with a digital product, from the layout and organization of content to the ease of use and overall aesthetic.
Efficient & Effective UI/UX Designs
Effective UI/UX design services can significantly improve a product's usability, making it more intuitive and enjoyable for the user. It can also play a significant role in the success of a product, as a poor user experience can lead to decreased user engagement and, ultimately, lower business revenue.
A Glance at Reality with the Best UI/UX design services company
Only the best UI/UX design services company can offer you superior designs for your website or application, and that's where VDigitalX comes in. UI (user interface) design is concerned with the visual design of a product, including the layout, color scheme, and typography. A well-designed UI helps to create a cohesive and aesthetically pleasing user experience. On the other hand, UX (user experience) design focuses on the overall feel of a product and how easy it is for the user to accomplish their desired tasks. This includes elements such as navigation, search functionality, and error messages.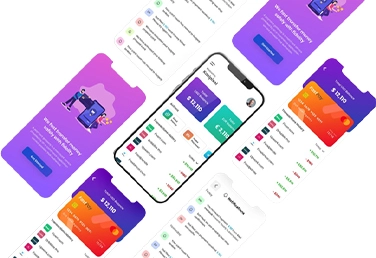 UI/UX Design Services For All Your Ideas
The Best UI/UX design services typically involve research and analysis of the target audience, as well as prototyping and testing to ensure the design meets the needs and goals of the user. This may involve creating wireframes and prototypes to visualize the layout and flow of the product, as well as conducting user testing to gather feedback and make necessary adjustments. In summary, UI/UX design services are essential for creating digital products that are both functional and aesthetically pleasing. By focusing on the user's experience, these services can improve the usability and success of a product. Our UI/UX designs are tailored to help you see the future of your ideas.
Get a Quote
Design Options
We offer enticing UI/UX designs to get you started with a app or website model. Know what you are getting before getting it.
Get started with your business app; whether you are looking for an eCommerce market or a revolutionary idea – We've Got your back!
Before spending a fortune on your website, iit'salways better to get a UI/UX design for it; it will save a lot of your time.
Brand Identity UI/UX Design
Any business design that will cost you a handsome amount deserves a UI/UX design that helps you understand how the end product will look.