The Pros and Cons of Amazon UAE Dropshipping: Is it Right for You?
Amazon UAE Dropshipping is quite a practical way to sell online and reach your customers with maximum accuracy. If you are an online seller, retailer, or entrepreneur with a business of your own, you might need to make use of Amazon Dropshipping for your business.
We have compiled a comprehensive guide for you, so the decision of choosing Amazon Dropshipping for your business is an easier one.
How Amazon UAE Dropshipping Really Works?
Dropshipping refers to a business model for selling online, it does not require you to keep stocks of your products or actually ship them by yourself. It simply requires you to accept the orders of customers as they come in and you simply provide the details of the orders to the manufacturer.
Amazon UAE Dropshipping has proved to be beneficial for a considerable number of businesses in the UAE. Read on to learn if you should adopt this technique as a part of your business.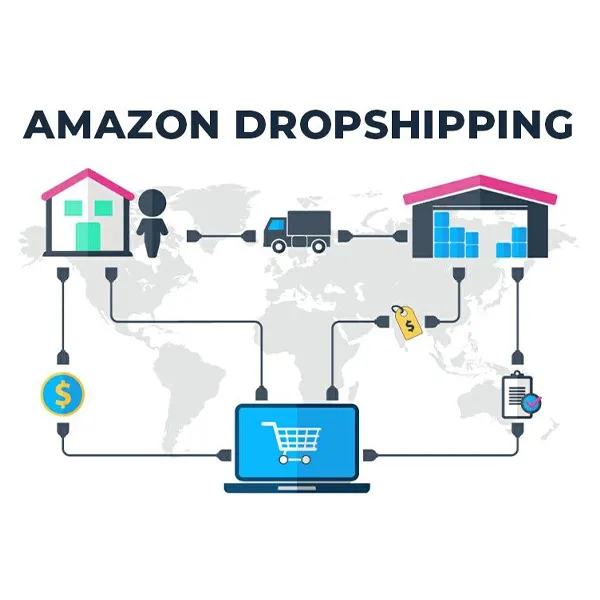 Rules for Amazon UAE Dropshipping:
Amazon is one of the best platforms that allow you to dropship. However, they have some rules that need to be followed.  Below, we have listed the rules that every supplier needs to follow if they desire to utilize dropshipping in UAE through Amazon:
1. Ensure that you are the seller of records:
The seller of record tells which party is legally entitled to and identified as the one selling products to the final customer. In order to dropship on Amazon, you need to make sure that you are the seller of records.
2. Ascertain that you are the seller:
All the invoices, packaging, packing slips, and other information related to your products should state that you are indeed the seller of the products. This is to avoid confusion and the customers don't know who they should contact in case of queries or complaints.
3. Remove all information regarding third-party sellers:
Any information regarding the third-party sellers should be removed from the packaging, invoices, packing slips, etc. before shipping out the order.
4. Take responsibility:
You should take responsibility for the processing and accepting of returns and complaints.
5. Follow the terms:
Remember that no matter what the circumstances are, you need to follow the terms and conditions of the Amazon seller agreement and dropshipping policies.
Essential Recommendations for Amazon UAE Dropshipping:
The digital era has brought to light the need for many services i.e., digital marketing companies, ghostwriting agencies, web design companies, etc. These help you earn success through the digital and virtual forums as their personnel have more experience and expertise in these fields.
Below, we have listed the reasons why the best website design company in Dubai recommends Amazon's dropshipping.
The pros of selling through Amazon are similar to those of eBay, i.e. start-up is easy, you don't need to be concerned about marketing, and you get a large audience almost immediately.
One of the best features of Amazon dropshipping is that Amazon offers you the availability of it fulfillment centers, this is called "fulfillment by Amazon".
This allows you to complement your own items with Amazon dropshipping products, without incurring any costs for packing, warehousing, or shipping.
Vetted suppliers for dropshipping:
Whether you are an amateur seller or an experienced pro, you will be able to sell products of high quality to a large audience on an international forum as Amazon usually buys in bulk from European suppliers mostly.
These goods are then kept in the warehouses of Amazon until they are ready and needed to be shipped.
You can choose from more than 30 categories on Amazon, and sell in numerous dropshipping niches according to your wishes. The dropshipping niches that you select, along with the rightly chosen dropshipping products and suppliers will assist you in reaching the right target markets.
Disadvantages Of Amazon UAE Dropshipping
Amazon dropshipping is not flawless, it has some disadvantages as well that you need to know before you decide to use this platform. The best web design company in Dubai believes these are the disadvantages you need to need to be aware of:
Lower chances of customer loyalty:
Most business that wishes to develop into brands has the same mission, to earn as many loyal customers as possible. However, with Amazon dropshipping, it is unlikely that you will have any long-term relations with your customers.
Amazon is driven towards assisting sellers in selling the products rather than helping them build good relations with customers.
If you are looking to sell with Amazon dropshipping, you should prepare yourself to be restricted severely about branding your business, communicating with your customers, and displaying your products.
A common risk you will need to take when using the platform of Amazon is that you will be allowing your sales data to be seen by Amazon at any time and all the time, be it your overall sales or your bestselling items.
Many have accused Amazon of utilizing this data to optimize sales opportunities of its own and strengthen its involvement in the niches. This often leads to pushing other merchants and sellers out of the Amazon marketplace.
To fulfill the requirements of Amazon, you will want the products of the supplier listed in your inventory. This is not a good thing, as you will be required to make an upfront investment if you wish to start operating on Amazon drop shipping.
Working with Amazon dropshipping will have you limited in terms of customization. Amazon will have complete control over what you do when it comes to UI/UX, branding, marketing, etc.
Conclusive Remarks:
While Amazon dropshipping is a great way to sell your products as a retailer or even an entrepreneur and is a great way to increase sales and target audience, it restricts your growth in more than one way.
Our guide to the basic pros and cons of Amazon dropshipping provides you with valuable insights for making the decision to work on this platform. If you are looking for further guidance, you can also find guidance with a reputable digital marketing agency like VDigitalX Marketing, regarding Amazon UAE dropshipping.
Yes. Shipping to other countries from UAE is possible through Amazon Dropshipping, as Amazon is a platform that allows you to dropship internationally.
Dropshipping on Amazon is completely legal. However, you will undoubtedly get suspended or banned if you fail to abide by the rules and regulations.